Straightener is every woman's life savior. From taming frizzy hair, giving sleek straight hair to creating waves and curls, a flat iron can solve all hair styling issues. Everyone religiously cleans their makeup brushes but when it comes to styling tools, we tend to ignore them.
It is vital that you clean your straightener regularly to increase its lifespan. Apart from that, when the ceramic plates are clean, it gets quicker for you to style your hair. All the buildup of hair gets transferred to these styling tools so ensure that you clean them properly.
How To Clean Ceramic Flat Iron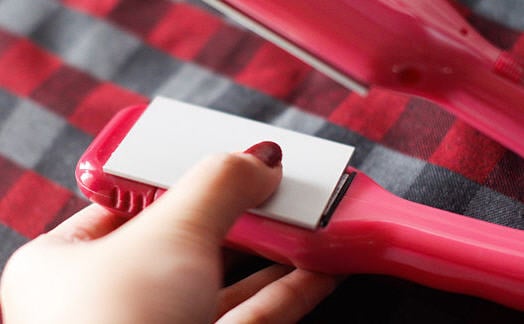 These are some methods to clean a ceramic flat iron easily-
1. Damp towel method
If you routinely clean your straightener or it is not that dirty then use this method. For this technique, you will require a damp towel, ceramic cleaning spray, paper towel, and warm water.
Firstly, plug your straightener in the electric socket and turn it on. Set the flat iron to its lowest temperature so the tool gets warm enough.
After a few minutes, turn off the flat iron. This allows the buildup to surface on the ceramic plates. Place the staying tool on a damp towel to let it cool for a minute or two.
Now, wipe away all the dirt using warm water as well as a paper towel. Spritz the ceramic spray on the ceramic plates and then clean it with a dry cloth. Finish off by cleaning the entire tool with a towel and have a brand new straightener.
2. Baking soda and vinegar
If you have not cleaned your flat iron for ages then this method is going to be perfect for you. Use this technique when there are stubborn stains along with buildup on the ceramic plates. For this method, you will require baking soda, hydrogen peroxide, vinegar, a toothbrush, and a cloth.
If hydrogen peroxide is not available then you can use vinegar instead. Start by mixing half a cup of baking soda and one teaspoon of hydrogen peroxide or one tablespoon of vinegar. Mix the ingredients nicely until a paste is formed.
Ensure that there are no lumps present in the paste. Apply the paste on the ceramic plates thoroughly. Now, take a toothbrush and start scrubbing the surface of ceramic plates. Keep brushing till the dirt and gunk comes off the plates. Wipe the flat iron with a damp cloth first and then wipe it again with a dry cloth.
3. Rubbing alcohol
For everyone who cleans their styling tools regularly, if this is one of your routine cleaning processes then use this technique. This is a fairly simple process and removes the dirt present on the ceramic plates. You will require rubbing alcohol, cotton balls, and a wet cloth for this method.
Plug the flat iron in a socket to turn it on. Let it heat for a few minutes so the gunk can surface the ceramic plates. Turn off the flat iron and put it aside till it is cooled completely.
Now, take a cotton ball and dip it in rubbing alcohol. You may want to wear gloves before doing this step. Use the cotton ball to scrub the surface of the ceramic plates.
Do this with a little pressure on the cotton ball and move your fingers in back and forth motion. Clean the straightener with a wet cloth.
4. Nail Polish Remover
This method too is quite simple and you can get done with it in a couple of minutes. All you are going to need for this technique is cotton balls, nail polish remover as well as warm water.
Take a cotton ball, dip it into the nail polish remover and start rubbing the surface of ceramic plates.
Apply a little pressure on the areas where there is the most dirt or buildup. Move the cotton in circular motions and also in back and forth motion.
Once the dirt is removed, take a soft cloth, soak it in warm water and clean the flat iron with it completely.
Why should you clean the flat iron regularly?
We all use a lot of products on our hair. From hair, serums to oils, these products can get transferred to the ceramic plates from our hair.
The buildup on these plates keeps on increasing if they are not cleaned regularly. Moreover, the next time you will use a flat iron, it will take more than usual to style your hair.
Not only this but the buildup and gunk on the ceramic plates may cause your hair to become sticky.
Final Words
Just like any other thing, cleaning the flat iron is extremely important. If you style your hair often then ensure that you clean the flat iron at least once a week. Try out the methods mentioned above as they are easy and do not consume much time as well.