I know it may seem surprising too but there are some mistakes which many women make when they want to straighten their hair.
A beautiful hair speaks volumes about the owner. It doesn't matter the type of hair you have, if you take proper care of it, it will look divine.
The most common tool for hair straightening is the flat iron which we all know about. However, before you use this unit, there are some things you must do before and after.
We have handled some of these things in one of our articles and if you are following it, you must have learned the best way to straighten your hair.
The Common Mistakes People Do When Straightening Hair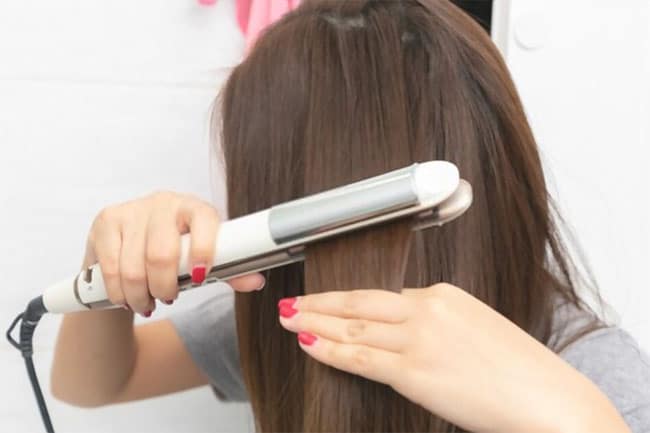 Unfortunately, many women are not getting their desired results after attempting to straighten their hair. So if this is the case, there are probably some things which you have not been doing right.
As for this article, we hope you will learn one or two things about the mistakes you have been making.
1. You don't loosen knots before shower
The first mistake some women make starts right before they step into the shower. The first thing you should do is to comb your hair with a wide-toothed comb.
You may say, what's the need? I can comb my hair after washing.
Well if you don't, you will have many stubborn knots to untie on your hair after washing. How will you feel when patches of hair join your comb after each attempt? Bad that's it.
2. Applying conditioner the wrong way
Some women will pour a large quantity of conditioner into their palms and rub it roughly on their hair. They probably think that doing it that way will make the conditioner go round.
I am already feeling for the poor hair. You don't need to do this. Pour a sizable amount in a container, use your hand to apply it gently on the hair starting from the base and working your way slowly to the ends.
After this, use a wide-toothed comb and brush your hair gently till the conditioner saturates every part of your hair.
3. Wrong toweling
Why fight your hair in the name of toweling? Some of the towels we use sometimes also cut our hair and the way we use the towel to scatter our hair is damaging. Use a soft towel and dry your hair very gently. This will be relaxing and can also make combing very easy.
4. You are blow drying hair wrongly
Don't use too much heat unless you want to end up with frizzy hair. The second thing is that you need to use a comb while drying.
As you place the dryer on your hair, you need to comb gently in different directions to avoid exposing your hair to too many hours of heat.
5. You don't use thermal heat protection
Exposing your hair to too many hours of heat can be damaging. Imagine staying close to the fire for a long time, how will you feel?
From the point you decided to change the looks of your natural hair with a flat iron, the next thing you should get is a thermal heat protective spray.
As you finish washing your hair and start drying it, apply a little of it to your hair likewise when you start straightening your hair as well. This will lessen the effect of heat on your hair.
6. You bought the wrong flat iron
We have tried as much as possible to make women understand that there are different types of hair texture.
Some people have fine hair, coarse hair, thin hair, curly hair etc. Also in Flat Iron, there are different types in the market namely Tourmaline flat iron, Professional flat iron, Titanium flat iron, Ceramic hair straightener .
Some are designed for specific types of hair while some are versatile for all hair types.
Please buy the best hair straightener from a reputed brand that will suit your hair and styling requirements.
Yes if you are interested in experimenting on different styles, getting a flat iron with beveled plates makes things easier. Here's a detailed guide on how to choose the right flat iron for your hair.
7. You are using a high temperature
As hairs differ, likewise their temperature needs. Some flat irons have fixed temperature settings while some have adjustable temperature settings.
Curly and coarse hair may require heat at 450-degree farhenhite but fine hairs and medium hairs don't.
No matter the type of hair you have, it is still better to start off with a lower temperature and gradually increase to a higher one if your needs demand that.
Exposing your hair to too much heat can damage your hair in the long run. It's a very common mistake that people do when straightening hairs.
8. Too lazy to divide hair before straightening
Forgive me but many women don't just invest enough strength in making their hair look fabulous. If you want to express your hair, create the time and strength to get it right.
Dividing your hair into sections will protect your hair from breakages and also give you the best results ever. How can you work on your hair all at once? Will you still expect good results?
Take the time to divide your hair into sections, clip it up as well and work one section at a time.
9. You are not using finishing products
After straightening your hair, there are some hair sprays and essential oils which you need to apply on it. These products help to keep your results for an extended period of time.
They will add shine to your hair and also help to hold your style in place for a longer time. If you don't have any at all, go and get yours today.
Final Verdict
You may have been working on your hair for a long time now. Maybe you have been wondering why your hair is thinning or looking bad after straightening. I sincerely hope that you have learned a few things from this article.
Handle your hair with care because it is part of what makes you a unique being. A healthy and shiny hair speaks good things about the owner anywhere.
If you found this 9 common mistakes you make when straightening your hair article very helpful and educative, share it so that your friends will learn from it too.