Now that you have picked a flat iron from the brands available, it is time you are equipped with the knowledge on how to use hair straightener at home.
I know so many women have been using their own unit at home but there is probably something they may be doing all wrong.
You see, using a hair straightener to straighten your hair can be very rewarding but also damaging if you are not careful.
In order to get only the advantages, you have to do it the right way using the right equipment and following the right process.
Apart from using the best brand of flat iron suitable for you, you need to get a heat-protective spray as well.
There are other things which you need to have at home if you want to work on your hair. Unless you want to use the services of a hairstylist, you must get the appropriate tools ready before you start.
With these things in place and following the processes we are going to layout, you will get the best-straightened hair you desire.
Hair Straightening Tools and Accessories
Before starting the hair straightening process at home, you need the following tools and accessories-
A suitable flat iron: This is the main tool you need for straightening and styling. Before you buy anyone, follow our guide How To Choose The Right Flat Iron For Your Hair and pick the right one for your hair. Remember that women's hair differs in texture so pick the best hair straightener for your hair texture and styling needs.
Hair dryer: There are several brands also available in the market. After washing your hair, you need to dry it with a dryer before you start the straightening process. So pick the best product that will suit your needs.
Thermal protection sprays: This is a hair spray which is used to reduce the impact of heat from flat iron on the hair. Don't ignore this spray at all. Get a good one and keep it handy. The more you use a flat iron, the higher the negative effect. With a heat spray, you can reduce this effect to the barest minimum.
Shampoo/ Conditioner: Shampoo is needed to wash the hair before you start any work on it. Even after the straightening process, you still need it for rinsing. A good conditioner, on the other hand, helps to soften your hair for a more shiny end result. Get a good brand and have it handy.
Hair Clips: Some hair straighteners come with clips as accessories. If your brand doesn't have one, you can buy some from a beauty salon. Clips are used to hold the hair in sections. As you divide the hair, you will use a clip to hold each section and work on others.
Hair shine/hair spray: Getting a silicon-based hair shine is also necessary because it helps your hair to shine and maintain the straightness. A hair spray also helps to keep your hair straight as well.
Curling iron: Some women love to add specs to the style. You need a curling iron for that. If you want to add flips or curls at the end of your straight hair, you will use a curling iron after straightening your hair.
Combs: There are some combs you need to have before working on your hair. A wide tooth comb, a tail comb and a paddle brush. Before washing your hair, you need to detangle it with a white tooth comb and as you straighten your hair; you need the tail comb to work too.
Hair moisturiser/ straightening balm: You need to apply this on your hair after washing. As you dry it, it will help to give you good results as well.
How To Use Hair Straightener Safely At Home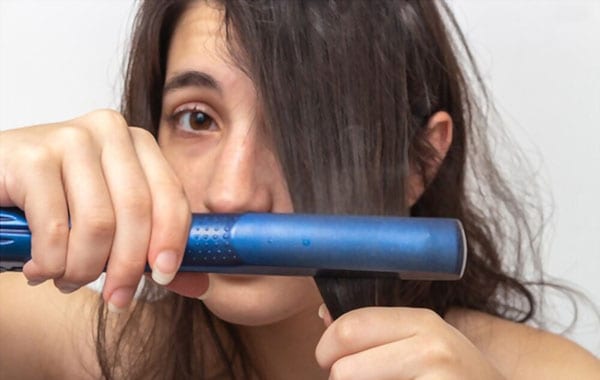 Here's a step by step guide to learn how to use a hair straightener at home-
Step #1- Comb Your Hair
The first thing to do is to comb your hair with a wide-tooth comb. After combing, wash your hair with shampoo and apply your conditioner afterward.
Step #2- Apply Moisturizer
Apply the hair moisturizer and hair balm on your hair starting from the mid-length to the tips.
Make sure to avoid the roots of your hair to avoid excess oil. After this, use the wide-tooth comb and work your hair free from any knots.
Always do it gently as you comb because your hair is more fragile when it is wet.
Step #3- Dry Your Hair
Dry your hair with the hairdryer. If you don't have one yet, you can air-dry your hair.
You can also use the heat protectant at this point especially if you are using the dryer.
However, if your hair is curly or frizzy, use the paddle brush to smoothen it out a bit.
Step #4- Divide Hair into Many Sections
Divide your hair into how many sections you can manage and clip it up with the hair clips.
You can allow a layer of your hair to lie back at your neck. As you are sectioning your hair, plug in the flat iron to start heating up to your required temperature level.
Step #5- Apply Thermal Protection
spray the thermal protection on your hair holding it 1 inch apart from the hair. Don't forget to do the same on other sections before you use the iron on them. Always prefer a flat iron that has multiple temperature control for less damage.
Step #6- Comb the section again
Use the comb and comb out the section you want to straighten each time as well.
As you comb the hair slowly from the base of the section, place the iron horizontally above it and start sliding down to the tips.
Repeat these on the other sections till you achieve the result you want.
Step #7- Apply smoothing cream
after straightening, rub the smoothing shine on your palms and apply it gently to your hair. This will help to reduce frizz on your hair.
Imagine the results you have achieved. Using a hair straightener at home can be fun and rewarding. You don't need to run to a salon every time you need to fix your hair.
Final Verdict
Now that we have dealt with how to use a hair straightener at home, we hope you will start enjoying a salon standard straight and shiny hair going forward.
If this article has helped you, share it so that your loved ones will also be experts when it comes to using a flat iron at home.